This store requires javascript to be enabled for some features to work correctly.
iDrive Logistics Case Study:
iDrive Logistics walked into the showroom of Wholesale Office Furniture hoping for a solution to their new office space and furniture needs. It was a great first impression and we immediately got to work. They presented us with an interesting design concept that required custom work. As we worked through the details together, we landed on an incredible design. One noteworthy of front-page headlines. It matched their style perfectly.
This was just the beginning of the final solution, as they ordered 2 conference tables that would set them apart from anyone else. A live edge solid wood conference table met that need. We settled on ordering a 16′ elm tree from northern Idaho and had it transformed into the conference tables. Due to their size and weight, the tables needed to be machine craned into the building through a third-floor window.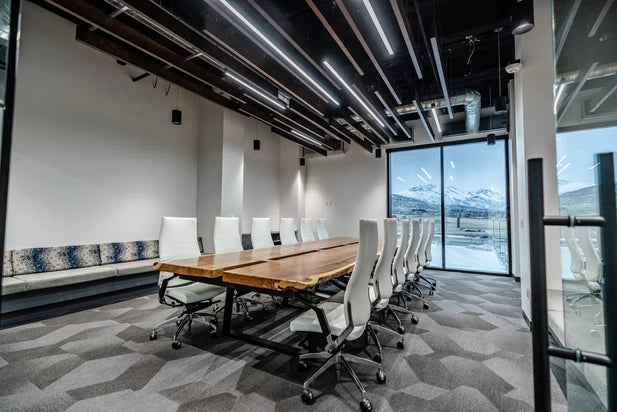 Due to the unique style we were trying to capture, we have the opportunity to purchase products from Canada and Lithuania as well. The lounge furniture was manufactured in Quebec at Groupe Lacasse and the client guest chairs were manufactured in Lithuania at Narbutas. Those various types of furniture were to be placed in the cafe, private offices, and custom-built phone booths. 
iDrive also ordered a wide range of cubicles provided by Friant that included panel walls, standing desks, beam power/data management, and mobile pedestals. Other furniture vendors included Davis Furniture, Madison Seating, Rouillard, Via Seating, Envire, Webstaurant, ECA data ports, 9to5 Seating, Woodstock Marketing, The Sofa Source, and Cherryman Industries.